Welcome to Germanna's Emergency Medical Services Education Programs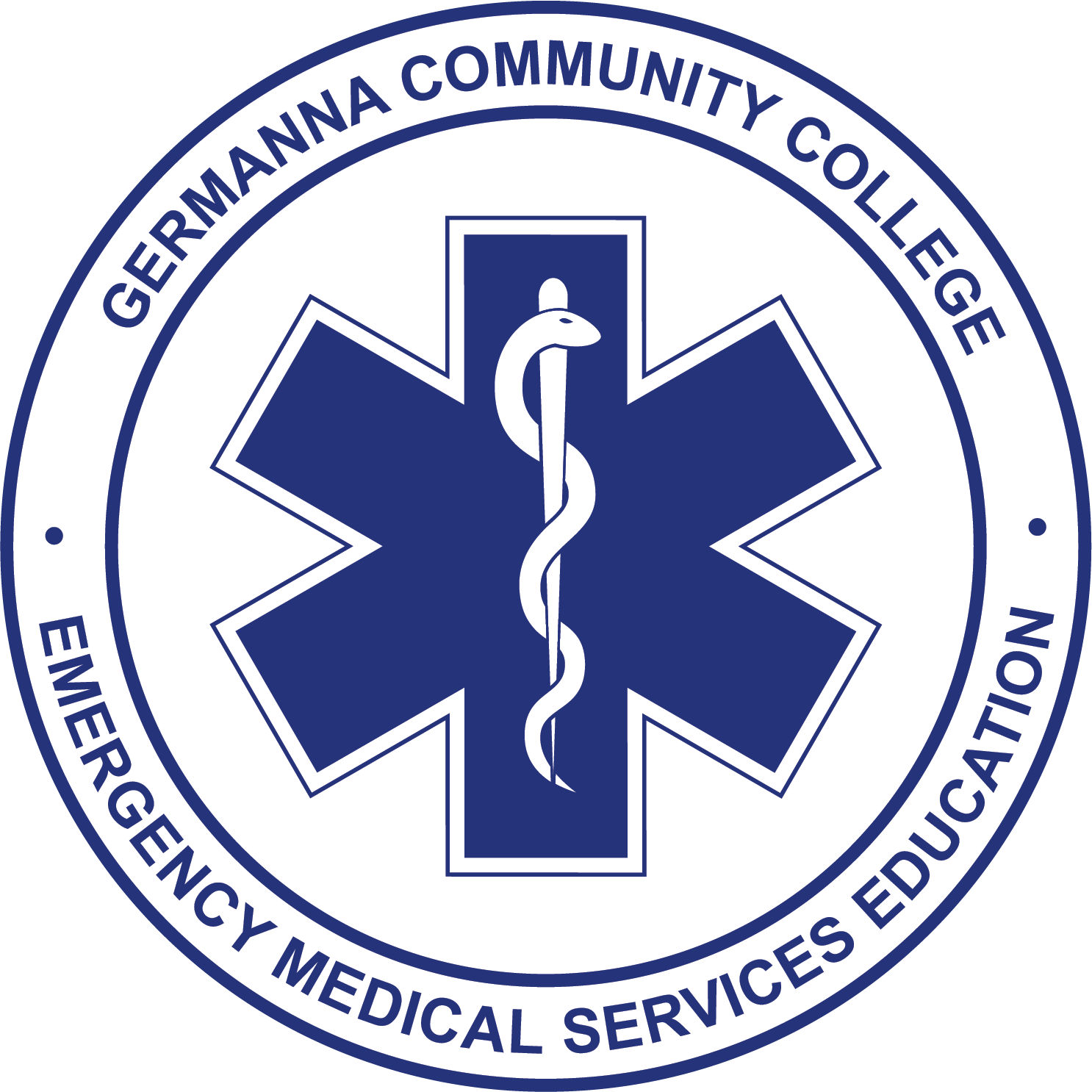 Emergency Medical Service providers may work on ambulances, in hospital settings, and are increasingly being utilized by other industries as well. EMS providers may be certified at one of the following four levels—each building on the level before it:
Level 1: Emergency Medical Responder (EMR)
This EMS provider offers advanced first aid on the scene of an emergency, but they do not transport patients by ambulance; Germanna does not currently offer instruction at this level.
Level 2: Emergency Medical Technician (EMT)
The EMT is the entry level EMS provider who may transport a patient in an ambulance to a hospital. EMTs are trained to address traumatic injuries and may offer a limited number of medications for medical emergencies. They are considered Basic Life Support (BLS) providers. The EMR certification is not a prerequisite for the EMT program but an American Heart Association BLS Provider CPR credential is a prerequisite. The EMT Program is one semester, and is comprised of 2 courses (8 cr.) taken concurrently. Students anticipating that they may want to earn a career studies certificate and/or continue to the AAS in EMS – Paramedic degree are advised to take ENG 111 as well.
Level 3: Advanced Emergency Medical Technician (AEMT)
The AEMT is the entry level Advanced Life Support (ALS) Provider. Advanced Life Support providers are permitted to engage in more invasive procedures such as inserting IV catheters and may administer IV fluid and additional medications. The AEMT program prerequisites include a Virginia or National Registry EMT credential, completion of BIO 141 with a grade no less than a "C", and a BLS Provider CPR credential. The AEMT program is one semester comprised of 10 1 or 2 credit EMS courses (12 cr); students wishing to earn an AAS in EMS – Paramedic degree will also need to take 2 general education courses, SDV 101 and PSY 230.
Level 4: Paramedic
The Paramedic is the highest nationally recognized EMS provider. This Advanced Life Support (ALS) provider is permitted to engage in significantly more invasive procedures including endotracheal intubation, electrocardiogram interpretation and use, surgical cricothyrotomies, and may administer a large array of medications including but not limited to cardiac medications, sedatives, narcotics, and paralytics. Students interested in becoming paramedics will complete 4 semesters of course work. Paramedic students are required by the Virginia Office of Emergency Medical Services to be Virginia or National Registry certified EMTs. The AAS in EMS – Paramedic program includes the AEMT semester of instruction (described above), followed by semester 2: (11 cr.); semester 3 (12 cr); and semester 4 (12 cr).
Emergency Medical Services Jobs
We invite you to watch our Emergency Medical Services Jobs video. This video was prepared for you to give you a glimpse into the different types of jobs available within Emergency Medical Services.
Our programs work with you to ensure your success:
Simple application process
Flexible blended learning
Nights/weekends
Some students may be eligible for financial assistance
Experienced instructors who understand the challenges of the adult learner
---
Prepare for Virginia and national certification as a registered Emergency Medical Technician. Gain a strong foundation in pre-hospital basic life support as defined by the Virginia Office of Emergency Medical Services.
---
Image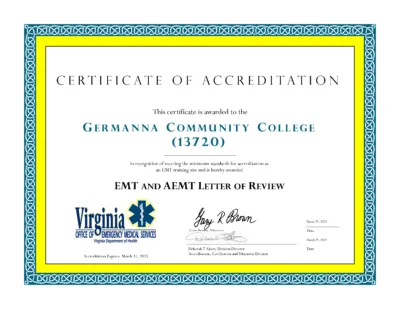 ---
The Germanna Community College EMS Education Program has been issued a Letter of Review by the Virginia Department of Health, Office of Emergency Medical Services (www.vdh.virginia.gov/emergency-medical-services) upon the recommendation of the Division of Accreditation, Certification and Education.
---
Interested in getting started?
Contact Christine Wagoner, Administrative Assistant to the Dean of Nursing and Health Technologies, EMT, DICO