Civic Engagement & Voter Empowerment
Germanna Community College encourages all eligible students, faculty, staff, and community members to register to vote. 
Important Civic Dates:
Tuesday, September 19, 2023 • National Voter Registration Day
Monday - Friday, October 2-6, 2023 • National Voter Education Week
Thursday, October 26, 2023 • Vote Early Day
Monday, November 6, 2023 • Election Hero Day
Voter Registration Assistance
Germanna Community College's Counseling Services can provide printed voter registration materials. The Counseling Services team is also available to assist students who may need assistance with completing the voter registration form. All completed forms will be submitted every five days.
Find Polling Location
Registered voters will need to find their polling place based on their address and county they live in Virginia. It is suggested that your polling location is located before the election so that you know exactly where to go to vote. 
Early Voting
Early voting is a great option if you are not able to vote on election day or you want to avoid any last minute emergencies preventing you from getting to the polls on election day.
There are two ways to participate in early voting: 
Apply to "Vote by Mail"
Visit your local Registrar Office, Satellite Office or Voting Center
Early Voting Locations
If you are registered to vote in the county that you live in, then you may be eligible to vote early at your nearest Registrar's Office, Satellite Office, or Voting Center. 
Our Communities Early Voting Locations
City of Fredericksburg
601 Caroline Street, Suite 500A 
Fredericksburg, VA 22401-5954
Phone: (540) 372-1030
Spotsylvania County 
4924 Southpoint Parkway 
Fredericksburg, VA 22407
Phone: (540) 507-7380
Same Day Voter Registration
The General Assembly passed new legislation in 2022 that allows you to register to vote and cast a provisional ballot the same day. Provisional ballots are subject to approval by the local electoral board.
Virginia Department of Elections
The Virginia Department of Elections is where you can find all the information that you need about elections. A few different facts you can learn about are:
Voter registration
Casting a ballot
Election results/reports
Candidates
Political Action Committees (PACs)
Virginia election law
ALL IN Campus Democracy Challenge
Germanna Community College has proudly joined the ALL IN Campus Democracy Challenge. Your civic engagement has allowed Germanna Community College to accomplish the ALL IN Campus Democracy Awards. 
Germanna Community College ALL IN Campus Democracy Awards
2018 Gold Campus Badge
Image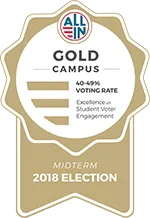 2020 Silver Campus Badge
Image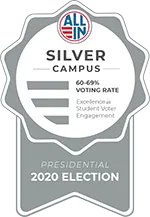 Presidential Commitment Badge
Image