Image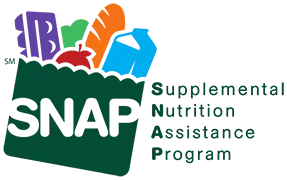 The Supplemental Nutrition Assistance Program (SNAP) gives you and your family the money you need to buy nutritious food so you can stay healthy and thrive. SNAP helps households pay for food, freeing up money spent on groceries to pay for other essential items, like rent or college tuition.  Benefits are electronically transferred to a card each month that you can use to pay for groceries.
Am I Eligible for SNAP Benefits?
In order to receive SNAP benefits as a College student, you need to meet the income requirements AND at least one of the student listed exemptions below
SNAP Definition of a Student
For SNAP purposes, a student refers to a person who is enrolled at least half-time in an institution of higher education. The term student refers to a person who is:
Enrolled in a business, technical, trade, or vocational school that normally requires a high school diploma or equivalency certificate for enrollment; or
Enrolled in a regular curriculum at a college or university that offers degree programs, regardless of whether a high school diploma is required.
Income Guidelines for SNAP Eligibility
All students must meet the income guidelines based on their household in order to qualify. A SNAP household is either a person living alone or a group of people living together who customarily purchase and prepare meals together.  For information about income guidelines click here
SNAP Eligibility for Students
For new SNAP applicants, these guidelines will go in to effect starting on July 1, 2023.   For currently enrolled SNAP students, these eligibility requirements go in to effect on your annual renewal date.
If you are a student and you meet SNAP eligibility requirements, you may be eligible for SNAP if you meet one of the following exemptions:
Are under age 18 or are age 50 or older.
Have a physical or mental disability.
Work at least 20 hours a week in paid employment.
Participate in a state or federally financed work study program.
Participate in an on-the-job training program.
Care for a child under the age of 6.
Care for a child age 6 to 11 and lack the necessary child care enabling you to attend school and work 20 hours a week or participate in work study.
Are a single parent enrolled full-time in college and taking care of a child under 12.
Receive Temporary Assistance for Needy Families (TANF) assistance.
Are enrolled in a TANF Job Opportunities and Basic Skills (JOBS) program.
Are assigned to, placed in, or self-placed in a college or other institution of higher education through:

A SNAP Employment and Training (SNAP E&T) program;
Certain other E&T programs for low-income households, which are operated by a state or local government and have an equivalent component to SNAP E&T;
A program under Title I of the Workforce Innovation and Opportunity Act of 2014 (WIOA)
A Trade Adjustment Assistance Program under Section 236 of the Trade Act of 1974.
If you are not sure whether you qualify for SNAP, contact one of our SNAP 50/50 Program Support Specialists for assistance.
Do you have questions about SNAP? 
If you have questions about SNAP benefits or eligibility or want to know what other programs you may be eligible for, contact a SNAP Program Support Specialist
SNAP & Other Benefits
Students who receive Temporary Assistance for Needy Families (TANF), General Relief-Unattached Child (GR), and/or Supplemental Security Income (SSI) can automatically meet the income requirements for SNAP.  If you already receive SNAP, it's likely you meet the income requirements for most other benefits.
Immigrants
If you are a noncitizen who has resided legally and permanently in the U.S. for at least 5 years, you should be eligible for benefits and can apply for SNAP.  If you received disability benefits, are a refugee or meet other requirements, you may be eligible for benefits right away.